---
How would you describe your art - in one sentence, or a short phrase.
Read more on The Commissioned Featured Artist.
Photo of you in your studio; or beside an art piece that you like.

One sentence to describe your studio / the place you work.
The place full of calmness and peaceful mood.
Photos of your 3 best artworks, the title and a short description.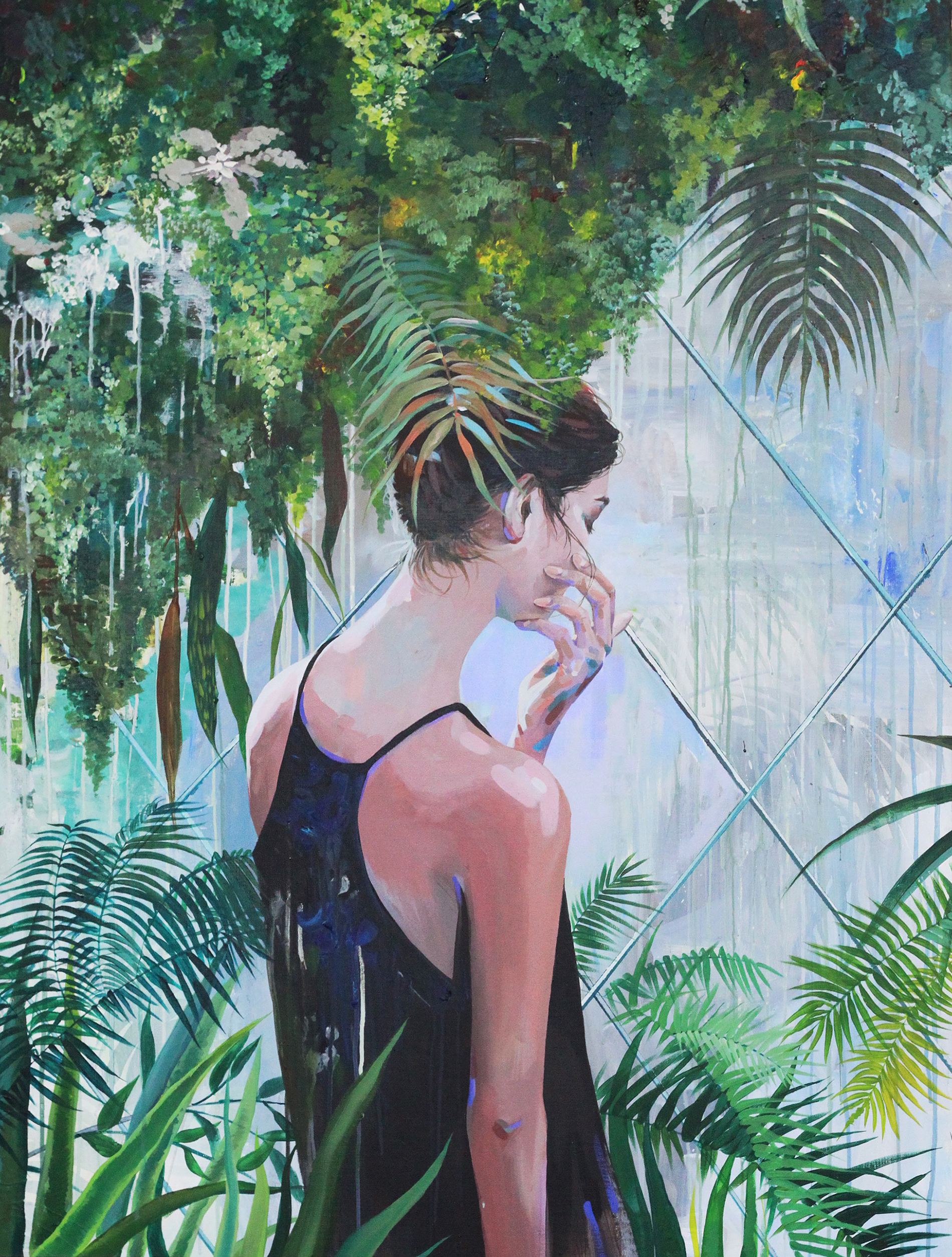 Botanic garden:
Acrylic on Canvas, 38.1"W × 51.2"H, 2015.
There is a person who look calm but at the same time feeling lonely in the garden. I wanted to express simultaneous emotions in this painting.

Jungle_Berghain II:
Acrylic on Canvas, 31.4"W × 39.3"H, 2016.

Jungle_Berghain III:
Acrylic on Canvas, 23.8"W × 23.8"H, 2016.
Berghain is the most hottest club I have ever been. It felt like Jungle in there. People's silhouette was blurred with the deep house music. I did not want to forget the atmosphere of that moment.
Most memorable art commission - what was the piece about, who commissioned the art, what was the experience like.
When I was in university my artworks used to have a sexual, dark and depressive mood.
I participated ASYAAF(Asian students and young artist art fair) in my senior year.
One of my canvas artwork which is 63 inch size was sold by an old lady who is ordinary housewife. She wanted to buy a painting to hang on the wall at her living room. I was impressed that she selected my artwork for her house interior. Furthermore I was deeply thankful to her because that was my first art commission.
How you work with your clients - a short description of how you develop concepts and ideas, and collaborate with your clients.
It is not easy to discuss our suggestions between artist and the client to create a concept. For the best result I believe conversation of my client is important and I share thorough visual references before beginning the artwork.
What/who inspires you?
* Botanical mood.
* People who have attractive faces.
* Hipster, Contemporary subculture of young folks.
---
Browse Yejin Jun's artworks on The Commissioned.